Mark Newton
Mark Newton is the Production Manager at the Center for Digital Research and Scholarship (CDRS), a unit of the Columbia University Libraries/Information Services. At CDRS, Mark's work focuses on the development of the library's scholarly publications partnership program, the Academic Commons institutional repository, and a variety of faculty- and student-led digital scholarship projects. He currently serves on the project staff for HumCORE, an NEH-funded digital humanities project with the Modern Languages Association, pairing repository infrastructure with the MLA Commons community hub. Mark graduated with a Master of Science in Library and Information Science from the University of Illinois at Urbana-Champaign and previously served as the Digital Collections Librarian at Purdue University.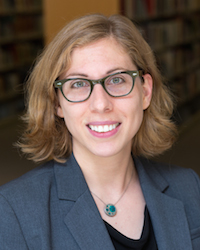 Jill Cirasella
Jill Cirasella is Associate Librarian for Public Services and Scholarly Communication at the Graduate Center of the City University of New York. In this position, she oversees reference, instruction, circulation, and interlibrary loan services, as well as numerous scholarly communications initiatives, including the Graduate Center's institutional repository, Academic Works.
A vocal advocate of open access to scholarly literature, Jill seeks to promote understanding and adoption of open access at CUNY and beyond. Her efforts include co-founding the Open Access @ CUNY blog and leading the University Faculty Senate to pass a resolution in support of the creation of a CUNY-wide institutional repository (to launch in 2014-2015).
Before coming to the Graduate Center, she worked for eight years at Brooklyn College, where she developed expertise in science librarianship, peer mentoring, and evolving modes of scholarly communication. Previously, she was the librarian and archivist of the Dance Notation Bureau, where she continues to serve on the Professional Advisory Committee. Jill earned a B.A. in computer science from Amherst College, an M.S. in library and information science from Simmons College, and an M.S. in logic from the Universiteit van Amsterdam's Institute for Logic, Language, and Computation, where she studied on a Netherland-America Foundation Fulbright Grant.
Laura Bowering Mullen
Laura Bowering Mullen is the Behavioral Sciences Librarian at the Rutgers Library of Science and Medicine in Piscataway, New Jersey. In addition to her many years of experience as a science librarian, Mullen also works in scholarly communication areas. Mullen chairs the Rutgers Libraries' Committee on Scholarly Communication, and is the Libraries' representative to COAPI (Coalition of Open Access Policy Institutions). Mullen and colleague Jane Otto shepherded the successful open access policy resolution to its passage in the Rutgers Senate in Oct. 2012, and they have gone on to co-chair the Rutgers Open Access Policy Implementation Working Group. Otto and Mullen are leading a year of OA policy implementation planning at present. The Rutgers Open Access Policy is set to go into effect on Sept. 1, 2015.
Mullen writes and presents internationally on open access topics, and is the author of the 2009 book "Open Access and its Practical Impact on the Work of Academic Librarians." In recent years, Mullen has been a co-editor of the Emerald journal Library Hi Tech News, a member of the APA Library Advisory Council, and the Chair of the ACRL EBSS Scholarly Communication Committee.